So, you've painted the nursery, bought the pram, set up the cot and are ready for baby to come home. Its very important to understand and follow the safe sleep guidelines to keep your baby sleeping safely day and night.
The guidelines for making up your baby's cot have been prepared by SIDS and Kids and are a set of simple easy to follow recommendations to reduce the SIDS risk. SIDS and Kids Safe Sleeping is an evidence-based health promotion campaign developed for health professionals, childcare workers, new and expectant mothers, parents and anyone who cares for babies and infants. Since its inception in the early 1990s, the Safe Sleep campaign has reduced the incidence of Sudden Unexpected Death in Infancy by 80% saving 8,480 babies' lives.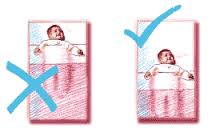 How to make up your baby's cot:
Put the baby's cot in parents room for the first 6-12 months of life
Use a safe cot that meets the current Australian Standard AS2172
Use a safe mattress: clean, firm, flat (not tilted or elevated) and the right size for your cot
Sleep your baby flat on his or her back
Keep your baby's head and face uncovered
Position your baby's feet at the foot of the cot (see image)
Tuck the linen and blankets in firmly or use a safe sleeping bag – see our post here on safe sleeping bags
Do not allow pillows, doonas, soft toys, cot bumpers or lambswool anywhere in the cot
Do not put your baby to sleep on a water bed or on a beanbag

For more information on Safe Sleep please visit SIDS and Kids.